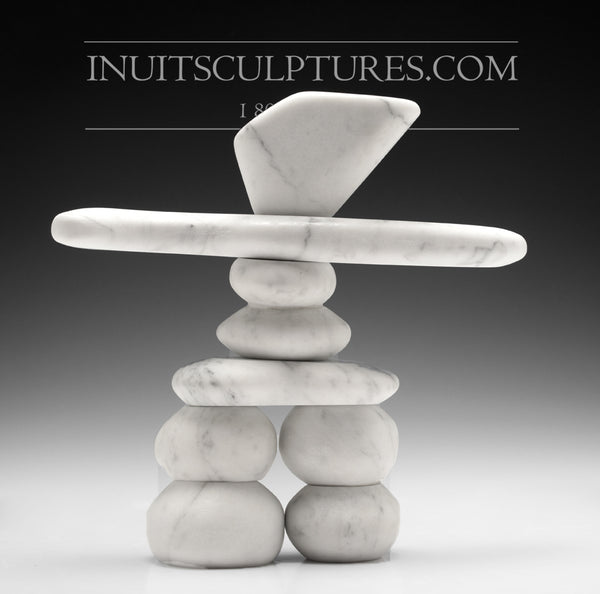 10" Inukshuk by Paul Bruneau *A Vision in White*
---
---
can be reserved, please contact us
---
---
Art: Inukshuk
Inuit Artist: Paul Bruneau
Size: 10" across, 8" Tall, 2" deep 
Community: Timmins, ON 19
Stone: Italian Carrara Marble
id: d-66791hjjy

Masterpiece Sculpture!
** Paul Bruneau is an Ojibway native and a member of the Mattagami First Nations Reserve.
Provenance 2019 Paul Bruneau came to visit the gallery with a series of 3 exquisite Inukshuks made from Italian Carrara Marble. Absolutely breathtaking!

Can't you see this wild Bruneau Inukshuk in a European style modern kitchen or ina transitional kitchen on a large island.

OR this Inukshuk would be a superstar in a foyer!

The finesse of Paul's Inukshuks is unmatched.

I have NEVER seen an Inukshuk made with white Carrara marble (from Tuscany, Italy).

But when the piece is carved with white Italian carrara marble, the inukshuk soars into another solar system.

Take a tour of Our new Brick and Mortar Studio.

Corporate Gifts: For a selection of over 100 Inukshuks to choose from, please visit our Corporate Gifts section.

PROUDLY CANADIAN SINCE 2008
We promise to send you only good things
---
Share this Product
---