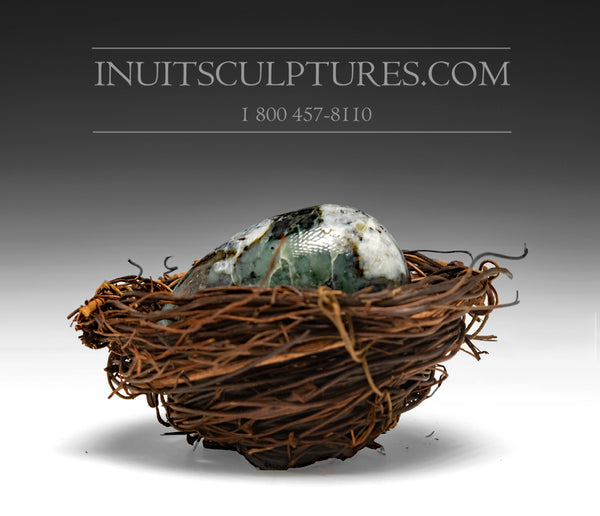 Ptarmigan Egg and Nest by Mark Pitseolak
---
---
can be reserved, please contact us
---
---
Inuit art: Ptarmigan Egg and Nest
Inuit Artist: Mark Pitseolak
Size: 4" wide, 2.5" tall
Community: Cape Dorset, NU
Stone: Serpentine and Nest twigs
id: ndc-197-268681ajjy
This is an exquisite bird nest with egg carving by one of my favorite artists who is also very acclaimed: Mark Pitseolik from Kimmirut.
Mark Pitseolak is one of my favorite artists. I love his compositions and the glossy finish he adds to each of his carvings. His pieces are so smooth and slick, that they convey pure harmony mixed with sophistication. He prefers carving smaller figures as opposed to large ones. He enjoys directing more focus and detail into a smaller stone as it is much more manageable and scalable.
This is a very original sculpture, a theme that I have never seen before. The egg is very detailed and polished to a mirror shine.
We've never seen any carvings similar to this one before. 
MARK PITSIULAK (1954-present)
Exhibitions:
Spirit of the Birds, Gallery of the Arctic, Victoria, BC, Canada
Taste Of The Wild, Orca Aart, Chicago, USA
PROUDLY CANADIAN SINCE 2008
We promise to send you only good things.
---
Share this Product
---
---