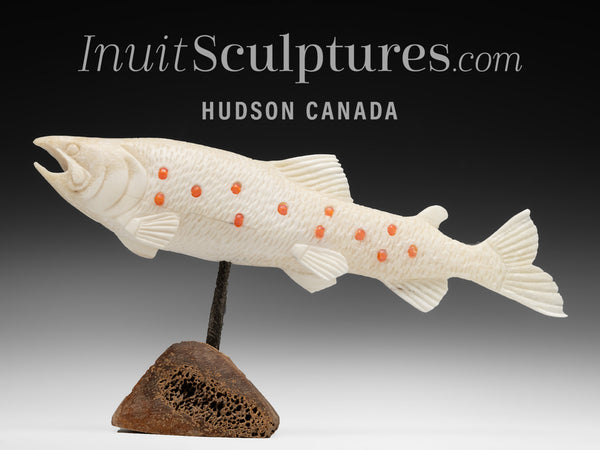 9" Alaskan Salmon by Harrison Miklahook Jr *Dotty*
---
---
can be reserved, please contact us
---
---
Inuit art: Alaskan Salmon
Inuit Artist: Harrison Miklahook Jr
Size: 9" across, 7" high, 2" deep
Community: Nome, Alaska 11/21
Material: Muskox horn
id: d-6638ajjjy

Masterpiece Carving! Magnificent Movement!

Harrison Jr. Miklahook is a well-respected carver from Alaska.

Harrison uses whalebone, baleen, and muskox horn to carve his magnificent marine life  sculptures.

The details of this Alaskan salmon are mind boggling in their execution. Each scale is meticulously etched,  When you examine this piece carefully, you would think you are viewing the real life salmon. 

Exquisite!

PROUDLY CANADIAN SINCE 2007


We promise to send you
only
 

good things
---
Share this Product
---
---