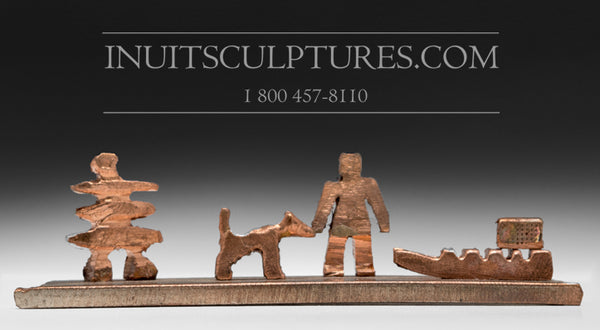 5" Inuk Scene by Johnny Kadlutsiak *A Man, his Wife and his Dog*
---
---
can be reserved, please contact us
---
---
Inuit art: Inuk Scene
Inuit Artist: Johnny Kadlutsiak
Size: 5" long, 1" tall, 1" deep
Community: Hall Beach (Sanirajak) NU 18
Stone: Metal
id: caps-866002714bdjy

When was the last time you saw an Inuit art piece made from Metal?

Would it be correct to say never?

This petite scene with its petite characters is a mystery.

A woman, a man, their dog and their dog sled.  

A domestic scene perhaps?  Did they stop to tend to their sled dog?

I love the copper coloured metal.  It is a  welcome  is departure  from the bone, ivory or stone that is the standard.

The light bounces off the metal like rays of the sun.

Theis family group is so unique and quirky. They are looking for a permanent home!


PROUDLY CANADIAN SINCE 2008
We promise to send you only good things
---
Share this Product
---